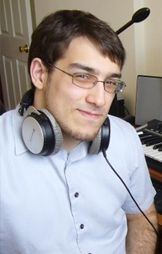 Andrew Aversa (a.k.a. zircon) is an award-winning, covert-ops audio specialist with headquarters located on the outskirts of Philadelphia, PA. His top-secret blend of cutting-edge electronic-organic sound design, sonorous composition, and ultra-polished production values have yielded dozens of credits in the realm of video games (Monkey Island 2: Special Edition, Super Street Fighter II Turbo HD Remix, The Wheelman), TV (Heroes, Skins, MTV), film, advertising and other media. As the recording artist zircon, he has written, produced, engineered and collaborated on over 15 albums.

The continuously-expanding array of zircon albums and EPs has met with both critical and popular acclaim – Impulse Prime achieved a dual victory at the 2006 Just Plain Folks Music Awards, winning "Best Techno Album" and the single "Tomorrow" winning "Best Techno Song." This victory was repeated at the subsequent 2009 JPF Awards, with Antigravity's "Depth Charge" taking "Best Techno Song" again, as well as the #1 spot of "Best Techno Song of All Time" at Garageband.com.

A lifelong fan of music, film scores and video games, Andrew's background in music began in classical piano, but soon evolved to include computer-based music production shortly before his departure to college. This led to a powerful thirst for knowledge and self-improvement, a thirst that has yet to be quenched as he continues to devour composition and production techniques every day. Thanks to this liquid background, Andrew integrates in his music a formidable arsenal of influences ranging from electronic artists like BT, Prodigy, Hybrid and Pendulum to film composers such as James Newton-Howard, Hans Zimmer, Danny Elfman and many more.

A true sound-scientist at heart, Andrew is the lead producer and co-founder of Impact Soundworks, a sound design & sample library development company with an enormous list of users all over the world, including some of the most well-known video game, television and film composers in the industry. If he is not designing a new collection of critically-acclaimed instruments for this company, he can be found concocting synthesizer presets which are similarly widely-used.

Andrew is frequently sighted teaching student composers and game developers at Drexel University or otherwise assisting fellow musicians in the fields of production, mastering, and sound design.